CDOCS LIVE in Scottsdale
For the first time, come see the clinical applications of the new Dentsply Sirona Primeprint™ and a live patient demonstration in-person!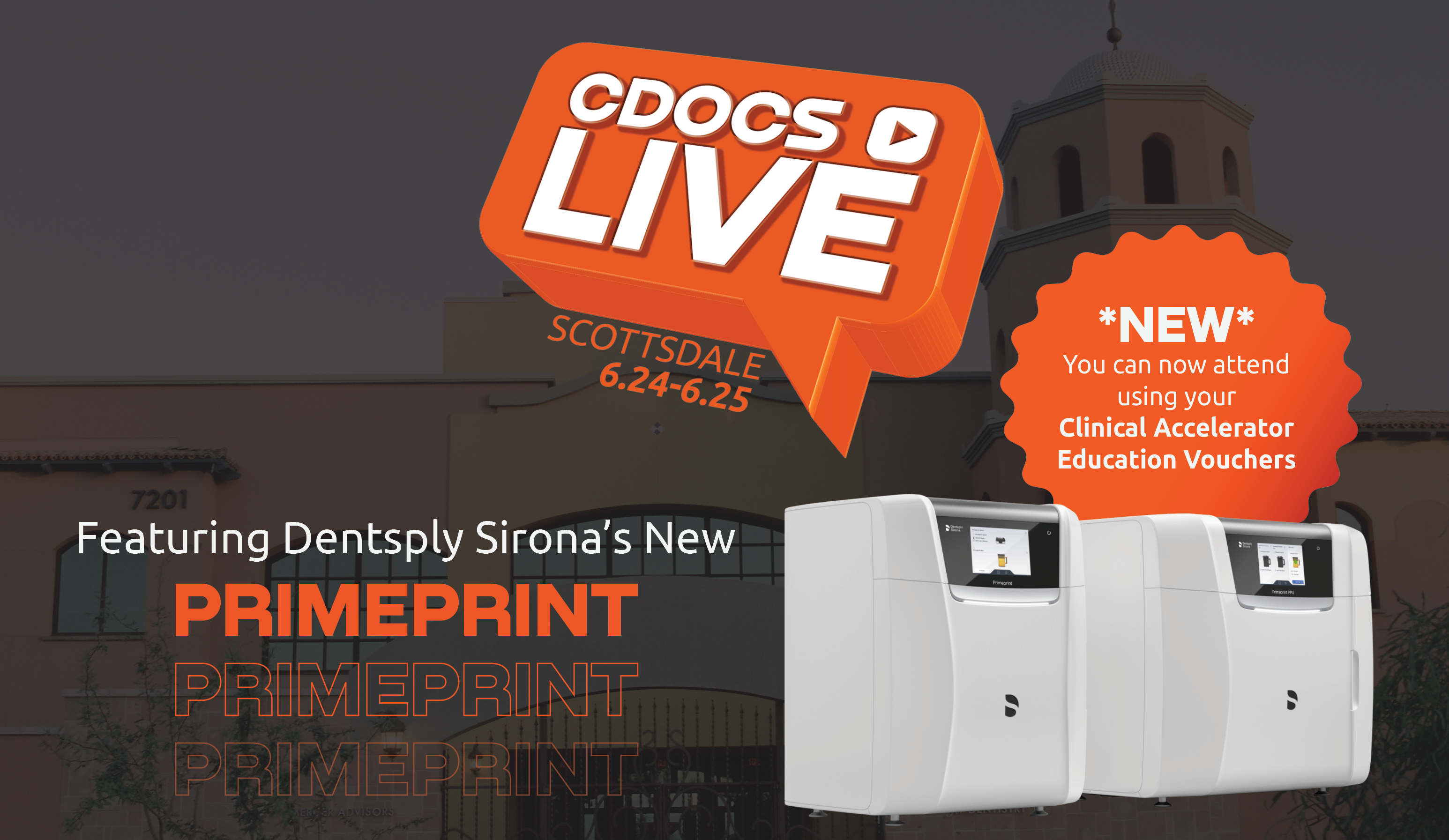 Led by CDOCS faculty and industry leaders, CDOCS LIVE in Scottsdale is a two-day program on June 24-25 featuring live patient demos on the latest technologies for digital dentistry.
Held at the state-of-the-art CDOCS facility in Scottsdale, this event's main focus is examining different digital applications possible with a 3D printer, including highlighting the newly released Dentsply Sirona Primeprint™, viewed as the most comprehensive printing solution available for CEREC users.
Participants will learn about 3D printing technology, including multiple live patient demos showing the different indications possible with the Primeprint™.
Seating is VERY LIMITED, so make sure to guarantee your spot today!
A full agenda can be found HERE.
LECTURES
Day 1
"3D Printing Applications in Dentistry" – Dr. Robert Lang
"Primeprint – The Latest in 3D Printing Technology" – Dr. Mike Skramstad
"Primeprint - inLab CAD 22" – Dr. Mike Skramstad
"Introduction to DS Core" – Dr. Mike Skramstad
"Introduction to OraCheck" – Dr. Mike Skramstad
"Mitigating Dental Sleep Medicine Side Effects with the PrimePrint" - Dr. Jonathan Ford
Day 2
"Digital Fabrication of Occlusal Appliances" – Dr. Darin Dichter & Dr. Robert Lang
"3D Printing of Dentures" – Dr. Darin Dichter
"3D Printing of Provisionals" – Dr. Darin Dichter & Dr. Robert Lang
"Digital Implant Surgical Guides - Indications and Fabrication Options" – Dr. Jeremy Bewley
"Economic R.O.I. of 3D Printing" - Dr. Robert Lang
CE AVAILABLE
13 CE Credits
PRICING

Mentor and Mentor+: $1,495
Fellow and Resident: $1,995
Non-CDOCS Members: $2,495
OR
One Clinical Accelerator Education Voucher
Event Cancellation Policy
If you register for an event, you have 2 business days from your registration date to receive a full refund, less a 6% processing fee. Any request to cancel within 90 days of the event date is considered beyond the cancellation window and is not eligible for refund. If you have less than 90 days but 60 days or more before the event date, you are eligible for an extension which can be redeemed for a future event. Your extension must be used within one calendar year of the original date of order. Extension seat availability is offered as a courtesy and is not guaranteed - events must have "extension seats" available in order to register using an extension. Any request to cancel or reschedule that is received less than 60 days before the event start date is not eligible for extension or refund and will result in forfeiture of funds. Written notice must be given for all course cancellation requests.
In addition, CDOCS reserves the right to cancel or reschedule events as necessary.
In such a case, tuition or deposit may be refunded in full or transferred to a future event or course. In no event shall CDOCS be liable for any cancellation or change penalties assessed by an airline or hotel as a result of course date changes or cancellations.
Thank you for your interest in attending! A CDOCS representative will contact you shortly to complete your registration.